December 2009
Orte des Transits (transit places)
Activities by enquete.diametrale
with dancers of the Company urbanReflects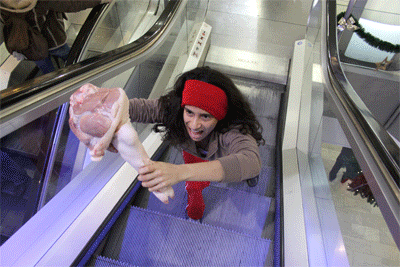 Every day we walk through them, we use them, we walk past them; we spend time with them on a regular basis - bored, annoyed, stressed out, sweaty, mostly on our own: in the so called 'transit places', non-places that always imply being on the way to somewhere.
Doro Eitel and Johanna Dangel (enquete.diametrale) examined those places. They did this at a time, when the towners more than usually walk around with a limited perspective: during the annual Christmas shopping time (21st /22nd of December, 2009). They were interested in escalators, elevators, trams, tram stations, stairways, hallways, bridges, subways and offices.
With the performances and happenings these places were suspended again by using and interpreting them differently. The interventions of the urban space presented the city from another perspective and made it tangible. The border between audience and actor was played with: the performances encouraged the audience to perceive and take part. It stimulated a heightened attention for the everyday environment. The performances were ephemeral creative laboratories that demanded acting in the here and now.
These two days of activities and happenings were accompanied by Tom Ben Guischard with his camera. He made a short film out of the material, with a special focus on the recipients and their perception of the interventions. It is not supposed to be a documentary, but poses the question of the value of documentation and emphasizes the ephemeral character of the activities.
Artistic direction and concept: Johanna Dangel and Dorothea Eitel

Voices from the media
Pictures
Pictures of "Orte des Transits"
Video

Sponsors