May - September 2013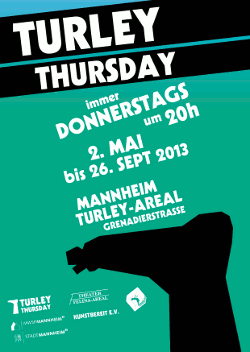 Test laboratory Turley
and the
Turley Thursday
An experiment for art makers exploring participation in dialogue with the citizens of Mannheim
From May 2nd until September 26, 2013 every Thursday at 8 pm in the riding hall at the Turley area, Entrance Friedrich-Ebert-Straße (Tram stop Grenadierstaße)

MONEY or DEAL
Decide whether you would like to pay money for the performance or whether you would like to make a deal with us instead.
Detailed instructions on the spot at the Turley Thursday
Make a deal:

at the box office
visit us in between
propose a deal via e-mail at deal [at] company-urbanreflects.de
More information (in German)

Turley Thursday on facebook
From Thursday to Thursday
The collected weekly newsletters (in German)
document what has happened on Turley.
Voices from the media
RNF Life, September 27, 2013:
Report on the Turley area (from 0:30)
Mannheimer Morgen, August 3, 2013:
Kreative Spurensuche
SWR2-Kulturthema, July 2, 2013:
Turley-Thursday
Mannheimer Morgen, May 23, 2013:
Transparente Kunstforschung
Mannheimer Morgen, April 26, 2013:
Neue Lebens- und Freiräume
Videos
Turley Thursday Mannheim - Ein Experiment der Company urbanReflects
Sponsors
Become a fan of our sponsor


kunstbereit e.V.