August 2013
Zeitgenossen (Contemporaries)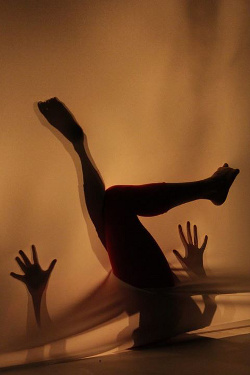 Fragments of dance and multimedia on Michael Ende's Momo
The video artist Anja Abele and the dancer Dorothea Eitel philosophised during four days, each in their own domain using images and movement, on the highly topical questions of meaning from Michael Ende's story about the little girl. It illustrates that humans often do not invest in values that are actually of importance for them.
On August 1, 2013, they met for the first time the duet of the musicians Ulrike Mücke and Daniel Sich at the Turley Thursday Mannheim. The evening was thus an experiment as well as a blind date.
The experiment has been dealt with again on October 31, 2013 at Acker Stadt Palast Berlin, where the musician Thorge Pries and the voice actor Caroline Intrup joined in for a live musical interpretation.
The current elaborate version has been developed with the actor Dennis Rehner and the harpist and voice artist Antonia Ravens under the direction of Dagny Borsdorf in Esslingen with the support of LafT and Galerie 13.


Voices from the media
Mannheimer Morgen, August 3, 2013:
Kreative Spurensuche

Pictures
Zeitgenossen at Turley Thursday Mannheim
Zeitgenossen at Galerie 13, Esslingen


Videos
"Zeitgenossen" on August 1, 2013 at Turley Thursday

Past performances

Sponsors
Become a fan of our sponsor


kunstbereit e.V.

Galerie 13 - Margrit Luick