February 2011
Parcival XX-XI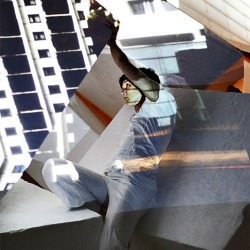 We're stuck in the crisis. There are no more other gods besides capitalism. The global community of humans has submitted itself to the dictate of "More consumption! More power! More appeal! More! More! More!"
Where are our visions of a different, more human structure of the world?! Is there still a promise of salvation, a vision in our postmodern world anyway? Is there still a utopia that can save us from the shining, promising clutches of capitalism? And what kind of an image of humanity, what a construct of identity, which imagination of the individual does such a vision contain?
Together with dancers, dancers' avatars and virtual avatars we begin to search the Holy Grail of the 21st century. History knows a lot of false Grails, vessels that turned out to be empty - Christianity as a salvation for the whole of humanity, communism with the postulation of equality of all people, fascism with its ideology of a superior race.
But who are we, the successors of Parcival, the naïve hero, who now begin a journey and start looking for visions by overcoming borders between virtual and real space? Who are we, that are ready to enter the 'non-place' (U-topia) in order to turn our world into an Edenic place for all people again? Who are we, that have buried all the great promises of salvation of human history - in places like Jerusalem, Ypres, Gulag and Auschwitz - and are now nevertheless on the search for a solution for everyone? Can this solution even exist?
Who are we, that live in a world where 'anything goes'? Which are the bricks that build the constructs of our identity? And how much of it do we still construct, except for facebook, myspace, twitter and second life? The virtual world has become a part of our reality, the two 'worlds' are inseparably linked to each other. But what does this mean, when my virtual self is an emancipated part of my identity? And what consequences does this have for our Grail quest?
At the point of intersection of projected image and live-dancers we create images, that show a shocking and frightening as well as a hopeful and visionary transformation of the Grail quest in the 21st century.
Through optic illusions, spatial confusion and playing with time, we create a certain disorientation that encourages the audience to question their own constructs of reality.
Contemporary dance merges with martial art, hip hop elements, break dance and acrobatics just like the dancer merges with video projections and a mobile scenery. The dancers act either as group brought into line or as individual performers.

Pictures
Pictures of the rehearsals
making of / behind the scenes
Performance at Spedition Bremen
Performance at Messe Freiburg

Videos
Trailer of Parcival XX-XI
Men's duet

Website of the project

Past performances

Sponsors