2011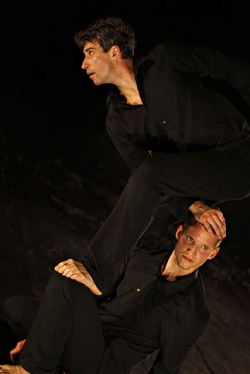 Soldatenduett
(Soldiers' duet)
Short play
The male duet in the context of the whole play
Parcival XX-XI
The duet points out one of Parcival's most important statements. It criticizes the chase of false Grails and the holding on to lost moments, which leads people to mistrust themselves and not use their common sense anymore.
The second act presents social utopias of the 20th century and reveals them all one by one as false Grails. This act mainly contains showing the dancers submitting themselves to systems in which they function. Nobody cares for their feelings or opinions. The soldiers' duet is a great exception to that.
It's set between a war scene in a dictatorial regime and communism as a new social utopia. Suffering and pain has brought the veterans back to themselves, to their emotions, dreams and aspirations. They don't submit themselves to the norm anymore, a norm that describes how strong men want to be seen like in the country. They completely disregard social structures. The main focus lies on the emotional consequences and their development after having experienced war. With time they overcome their brokenness and find back to their strength. But instead of integrating the experience and incorporate it for future situations, they fall back to their old structure and therefore naively shift to the new construct, which will later be revealed as dystopia.
This can be understood as an equivalent to Parcival, who feels that he's doing the right thing, but is nevertheless held back by social norms and even submits himself to them. His experience only leads him to chasing the lost moment instead of using it for new situations.
In contrast to the whole play, that combines the scenery - containing of 12 large cubes - and interactive digital media, the duet only works with means of dance. The soldiers' duet is the result of a scene where a large number of soldiers die, where the individual doesn't play any role, where soldiers are simply placeholders with a certain function.
With its deep emotionality the duet creates a contrast to that. The admission of their own neediness, the telling of aspirations and the handling of the experience oscillates to the typical image of masculinity, which contains strength and single-mindedness. At the point of intersection of sensuality and acrobatics an unusual image of men is created; an image that plays with contrasts and merges them.
Dancers: Arun Michael Trefz, Christian Dittmann


Videos
Soldiers' duet from Parcival XX-XI