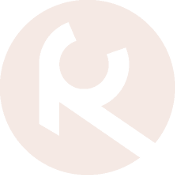 Since April 2010
unrestricted exploitation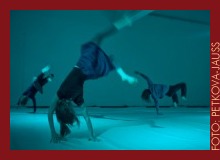 dance performance
with a poetic introduction by Björn Klein (Hamburg)
Nominated for the Stuttgart Theater prize 2010
Revised version for four women
unrestricted exploitation is a rapid and at the same time fragile dance play that deals with the (self-) exploitation in the professional context, with the fact that efforts are not valued anymore and with the resulting overexploitation that many people commit against themselves.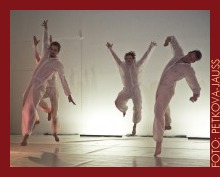 The play works solely with physical means in order to correspond to reality: As human beings we do not have a surrogate body, no extra deposit for power. The dancers experience their physical limitations and during the play undergo the different phases of need, expectation, claim, depletion, overspending, break-down, regeneration and the consequences of that chain.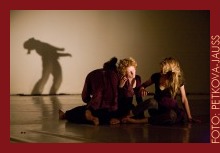 Using different dancing techniques and different qualities of motion the four dancers interact with compositions of Stefan Schmidt (Farang) and Micki Summ, which have been created specifically for this project.

Pictures

Videos
Trailer of "unrestricted exploitation"


Voices from the media
Voices on ,unrestricted exploitation'

Past performances
April 12 & 13, 2010

Concordia-Theater
Bremen
(Schwachhauser Heerstraße 17)
April 22, 23, 24 & 26, 2010

Morat-Institut
Freiburg
(Lörracher Straße 31)
November 6, 2010


Showcase Dance for the 22nd Stuttgart Theater prize


Tollhaus Karlsruhe
December 10, 2010


at the 22nd Stuttgart Theater prize


Theaterhaus Stuttgart
May 26, 2011


Short performance in the course of Tanz!Heilbronn


Theater Heilbronn
October 28 & 29, 2011


Excerpt shown at Internationales Tanztheater XII


Theater Reutlingen
Die Tonne

February 23, 24 & 25, 2012

together with MM-Soundsystem
E-Werk
Freiburg

February 22, 2013


in a revised version for four women at the 100° Festival Berlin


Sophiensaele Berlin

September 12, 13 & 14, 2013


in a revised version for four women


Turley-Areal Mannheim

September 17, 2013


in a revised version for four women at the Festival Alte Wurzeln - Junge Triebe


Theaterlabor Bielefeld


Sponsors